Are you heading to Pilsen by yourself, with a group of friends or your partner and have no time for tedious web browsing and planning?
Discover Pilsen with us and enjoy a hassle-free holiday.
Choose one of our thematic programs, order it online and leave all necessary arrangements to us. You can just relax and fully enjoy your time spent in Pilsen.
If our current offer does not suit your needs just let us know via phone or email what you want to experience in Pilsen. We will find you comfortable accommodation in a nice hotel, secure transfers, prepare an attractive program with a skilled guide and a made-to-measure experience. In short, we will provide you with exactly the experience of Pilsen and the Pilsen region which will keep you entertained and delighted, one that you will enthusiastically talk about with all your family and friends when you return back home!
Half-day and evening programs
Coming to Pilsen just for a while and want to experience the best?
Chose one of our half-day or evening programs which suits the best to your interests. Whether you like good gastronomy, beer, culture, history, architecture, sport or a bit of adrenaline you can find the right program for you.
Full-day programs
Staying in Pilsen a bit longer and have already booked accommodation?
Each of our full-day programs introduces the best of Pilsen from a different perspective. Select the variant which is closest to your heart and our skilled guide will secure that you will spend a great day in Pilsen.
Multi-day packages
Want to fully enjoy a few hassle-free days in Pilsen?
Order one of our multi-day packages which offer attractive program in Pilsen including accommodation in a nice and comfy 4-star hotel in the city centre for an advantageous price. And we will take care of everything else.
We will book your hotel and our experienced guide will look after you. He or she will show you the most interesting sights in Pilsen, tell you remarkable stories, take you into renowned pubs and restaurants and give you great advice and tips and enough free time for relaxing, shopping or own exploring of Pilsen.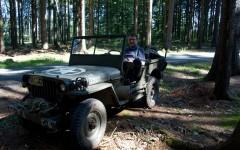 On the Trail of World War II around the Pilsen region