Pilsenjoy agency

Experience Pilsen and the Pilsen region as you've always wanted to! Pilsen, a city that - thanks to Pilsner Urquell beer - gave name to more than 70% of all beers in the world and a city that is proudly the European Capital of Culture for 2015. With your local expert on Pilsen city and the Pilsen region, the Pilsenjoy Agency, it is easy to experience Pilsen exactly the way that you love to! We do not offer only tours or visits, but EXPERIENCES AND STORIES!
We are a team of people from Pilsen who loves to travel, led by a professional who has been working his entire career in the tourism industry and during his life he has had many unique opportunities to travel much of the world. But he always liked coming back home to Pilsen. From his travels around the world and also from his professional practice, he brings a vast experience in the field of tourism, concentration on detail, perception of quality standards and customer service. And that world standard in the field of tourism is offered to you, here in the local environs of Pilsen and its surroundings.
We know perfectly the local people, gastronomy, traditions, specialties, attractions and hidden places. And we are ready to share all this knowledge with you through unique stories and unforgettable experiences.
Therefore, let us build the most suitable program, deliver the best-priced accommodation, present a choice of renowned local restaurants and coordinate all transport... you just enjoy Pilsen – with Pilsenjoy!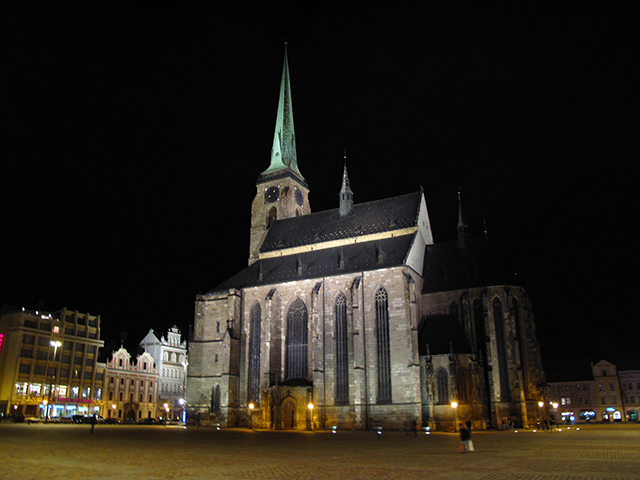 Our Team
Mgr. TOMÁŠ RABOCH
Founder and CEO
Tomáš Raboch graduated from Communication in combination with foreign languages at the University of West Bohemia in Pilsen. Already when at high school, he had the opportunity to spend one study year in Canada thanks to the Rotary Youth Exchange Program. Since then traveling and exploring foreign countries has continued in his life. He also lived in the USA and Norway for some time.
He has been working in tourism and hospitality for his entire career. He spent 11 years in several managerial positions in the Tourism and Heritage Department of the Pilsner Urquell Brewery. In 2015, he founded and now runs Pilsenjoy Agency and Licensed tour operator with the aim to bring unforgettable experiences and unique stories to visitors, guests and customers provided with a sense of detail, a perception of quality standards and perfect customer service. Tomáš is also active in Industrial Tourism and has been elected as a National Representative of ERIH (European Route of Industrial Heritage). He is a member of the Rotary club in Pilsen.
Ing. EVA ŠPALOVÁ
Event koordinátor, průvodce
Eva was born in Pilsen. After studying Construction Studies and working in transport engineering, she moved to Germany in 1990 with her family. There she gathered years of experience as an IT, Math and Language teacher. At the same time, she developed an interest in making international contacts. She was responsible for communicating with German schools abroad at the International Centre of the Furtwangen University and she helped several German companies find new partners in the Czech Republic. She has been translating German for almost 20 years and she is currently alternating between living in Pilsen and in Germany. She works as a tour guide, namely in the Pilsen Urquell Brewery and the city proper.
Ing. DANIEL ŠPALE
VIP Guide
Daniel was born in Germany and grew up in a bilingual setting. He had lived in Schwarzwald until 2012, where he also graduated at the age of 18. He had started studying at the University of Western Bohemia in Pilsen at the same time and chose to pursue a study in Mathematics and Management. After finishing his Bachelor's Degree, he has continued onto the Mathematics and Statistics Graduate Programme. He has already started using his considerate language abilities (German, English, Spanish, French) for work during his studies. He started at the Youth Exchange Coordination Centre TANDEM in Pilsen for Czech and German students. After that, he taught German and worked as a VIP tour guide in the Pilsen Urquell Brewery. He then became the Project Coordinator for Deutsche Bahn in the Škoda Transportation company. After finishing his studies in 2017 he took a Postgraduate position at the University of Western Bohemia and he also worke d part-t ime as a Project-Manager Junior for Škoda Transportation. He spends his free time as a tour guide.
Ing. MICHAELA SUCHÁ
Project Manager

Michaela Suchá works for Pilsenjoy as a Project Manager and focuses on the development and organisation of programs for individual clients as well as group tours. She will tailor the program to your wishes and will ensure that your program is prepared to the smallest detail. She also focuses on the preparation of teambuilding activities.
After graduating from International Business at the University of Economics in Prague, she decided to gain work experience and language skills during her two-year stay in the UK. After returning to the Czech Republic, she worked as a Marketing Manager at an international company Bovis Lend Lease and focused on B2B marketing, PR and events for clients. Then, she exploited her enthusiasm for tourism when working as a Destination Marketing Specialist at Pilsner Urquell Brewery for more than six years.

MgA. MONIKA RABOCHOVÁ
Production Manager
Monika graduated from the Theatre Production at the Theatre Faculty of the Academy of Performing Arts in Prague (DAMU). During her studies, she has been involved in production of several projects such as Theatre Summer Festival under the Pilsen sky, DIVADLO - the International Theatre Festival, Lanostory site specific project at Klínovec mountain and others. She has also completed several long-term language courses abroad (at Vancouver, Edinburgh, Vienna or Lindau).
After graduating, she joined a family business with health food, herbal products and natural skincare called HerBio s.r.o. However, she is still involved in the preparation and production of the Theatre Summer Festival under the Pilsen sky. She also provides production support for selected events at Pilsenjoy.
TEAM OF EXPERIENCED GUIDES
We carefully select our guides who will take care of you during your program in Pilsen or the tour of the Czech Republic to provide you with the perfect experience. We choose only enthusiastic and active guides with rich knowledge and great organizational and communication skills who fluently speak your language.
We usually offer guide services in Czech, English, German, Dutch, French, Russian, Italian and Chinese. If you are interested in another language, please contact us and we will do our best to provide you with a quality guide in your language.
Use of photographs
Photos used on this web have been provided by Plzeň Turismus s.r.o. (www.visitpilsen.cz), Plzeňský Prazdroj a.s. (www.prazdrojvisit.cz) and Pilsenjoy s.r.o.(www.enjoypilsen.cz) and are used with their permission.